Date: 9 December 2019
Time: 12:00pm
Location: Baker Hall 129, Conference Room 
Speaker: Dr. William Harbert
Topic: Induced and Triggered Seismicity: Fundamentals, New Observations and Challenges
Abstract: In this presentation, induced and triggered seismicity will be reviewed. Relevant earth system and energy production background material will be reviewed and a …
Date: 14 October 2019
Time: 12:30pm
Location: Baker Hall 129, Conference Room 
Speaker: Dr. David Archer
Topic: Near miss: The importance of the natural atmospheric CO2 concentration to human historical evolution
Abstract: When fossil fuel energy was discovered, the timing and intensity of the resulting climate impacts depended on what the …
Date: 9 September 2019
Time: 12:00pm
Location: Baker Hall 129, Conference Room
Speaker: Dr. Jud Virden
Topic: Is your grid ready? The convergence of renewables, energy storage, and electric vehicles!
Abstract: The grid of the future will be expected to be reliable and resilient while delivering affordable electricity to all …
A postgraduate research opportunity is currently available at the U.S. Environmental Protection Agency's (EPA) Office of Air and Radiation (OAR). This research opportunity is with the Climate Protection Partnership Division (CPPD) located in Washington, DC.
The selected participant will join CPPD's State and Local Branch (SLB), whose policy experts work cooperatively with state …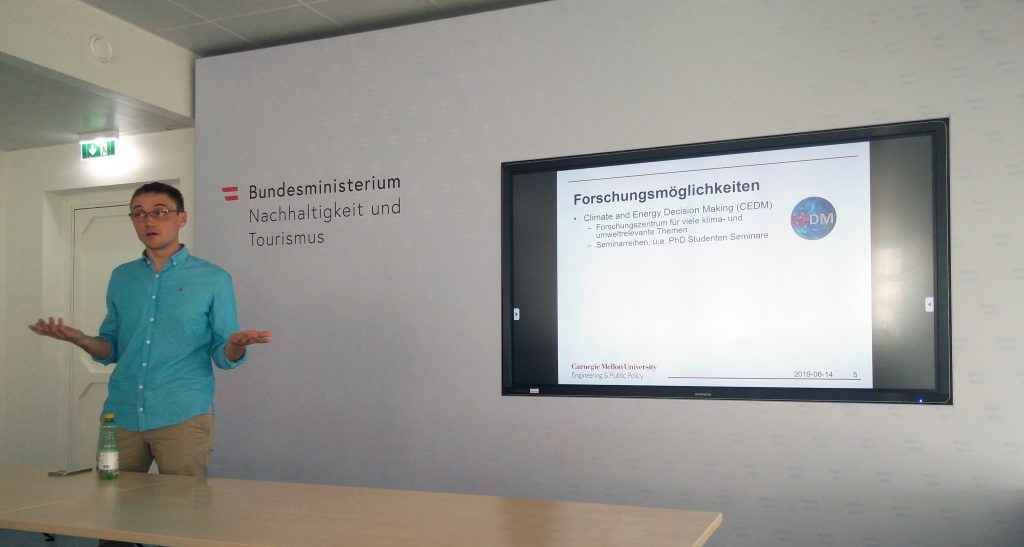 On Friday, June 14, 2019 EPP PhD student and CEDM affiliate Peter Tschofen spoke at the Austrian Federal Ministry for Sustainability and Tourism (BMNT), which is responsible for, "key quality-of-life issues and for questions which are essential in creating a livable future for our children."
Tschofen …
Warning
: Use of undefined constant yes - assumed 'yes' (this will throw an Error in a future version of PHP) in
/home/cedmcenter/www/www/wp-content/themes/wp-bold107/index4.php
on line
347