SUCCEED Program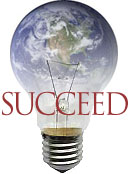 SUCCEED – the Summer Center for Climate, Energy, and Environmental Decision Making – was founded in 2011 by Carnegie Mellon University's Center for Climate and Energy Decision Making. SUCCEED includes two programs: a free 5-day summer program for rising 10th and 11th graders and a 2-day workshop for teachers.
The 5-day summer program for students complements what students learn about energy, climate change, and the environment in school. The program includes a variety of experiments and field trips in addition to interactive lessons. Photos from past student summer programs are available here.
The 2-day teacher workshop helps teachers incorporate information about energy and climate change into their curricula.